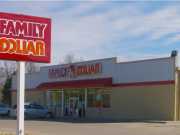 The Boulder Group, a net leased investment brokerage firm, has completed the sale of a single tenant Family Dollar located at 1105 Tulsa Avenue in Kansas, Oklahoma for $975,000.
Ten years after retiring as a nurse in Muldrow Oklahoma, Sheila Thrift, 68, was ready to be back in Arkansas with her family. Ms. Thrift sought assistance from First Financial Bank, where she learned about the Homebuyer Equity Leverage Partnership (HELP) program offered by the Federal Home Loan Bank of Dallas (FHLB Dallas)
Congressman Chaka Fattah (PA-02) announced that The Reinvestment Fund (TRF) in Philadelphia will receive $65,000,000 in New Markets Tax Credit (NMTC) awards to encourage investment in low-income neighborhoods throughout the community. The Reinvestment Fund was one of 76 organizations across the country selected to receive the tax credit allocation authority from the Department of the Treasury
U.S. Secretary of Commerce Penny Pritzker today announced that the Department's Economic Development Administration (EDA) is awarding a $1.5 million grant to the City of Muskogee, Oklahoma.
Attorney General Scott Pruitt on Wednesday announced Oklahoma and 10 other states filed an appeal of a lawsuit challenging the Dodd-Frank federal financial law. In appealing a lower court's ruling, Oklahoma and the other states are seeking the opportunity to defend the interests of their citizens against the potential harmful effects of Dodd-Frank
According to the Oklahoma Main Street Center's most recent reinvestment figures, there has been a total of over $593 million reinvested into Main Street...